THE MYTH: Vaping is a "gateway" into smoking for children and young people.
If vaping were leading young people to smoke, we would be likely to see a significant uplift in youth smoking over the last ten years as vaping products grew in prominence. The opposite has happened in the US and Europe, which are the two major vaping markets worldwide.  Data from the US CDC shows that from 2013-2015 (during the period where e-cigarettes became popular) experimentation with cigarettes fell from 41.1% to 32.3%; and regular smoking fell from 5.6% to 3.4%. OECD data shows that smoking has fallen dramatically among 15-16 years olds in most EU countries.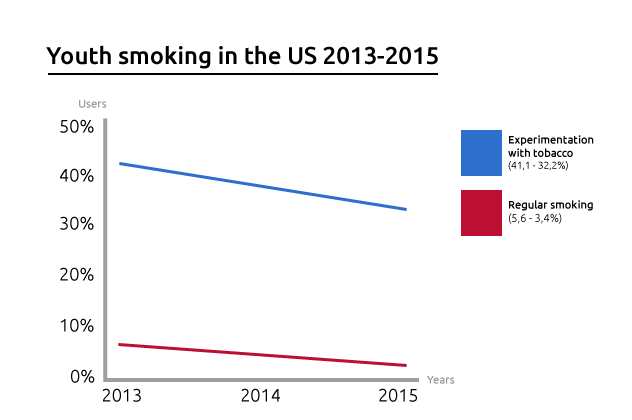 Studies that have indicated that there might be a gateway effect have been widely criticized by independent tobacco control and public health experts – including widely respected experts Professor John Britton and Professor Peter Hajek. In discussing a study published in "Tobacco Control", Britton made clear: "Although much has been made of the rapid increase in vaping among young people in the US there has been very little analysis of the relation between vaping and smoking. This study is an important demonstration that in the US, as in the UK, vaping by young people is probably helping to reduce, rather than increase, the probability of developing a lifelong and lethal addiction to tobacco."
The most recent US research on the subject not only shows a significant fall in youth experimentation with vaping products (regular use was never high) and underlines that no gateway effect has been observed. An independent review of a key US government dataset dataset, encompassing 12.421 8th and 10th grade students.
The analysis found that e-cigarette use "does not appear to be associated with current, continued smoking…failing to support claims that e-cigarettes have a causal effect on concurrent conventional smoking among youth".
References